Genesis Tenorio
Administrative and Legal Assistant
Genesis Tenorio supports the Wolk & Levine, LLP team as an administrative and legal assistant. She develops and organizes internal processes, client files, and the office space. She also handles some reception duties and provides a positive experience for our clients and visitors.
Bio
Genesis Tenorio graduated from Loyola Marymount University with a Bachelor's Degree in Sociology. While in college, Ms. Tenorio worked as a Student Researcher at the Thomas and Dorothy Leavey Center for the Study of Los Angeles. After graduating, Ms. Tenorio was a Development Associate for a non-profit in South Central Los Angeles, where women and children in low-income communities are empowered through education. She was able to assist and improve women and their families' lifestyles who lived in the neighborhood while employed. Ms. Tenorio is also an advocate for victims of human trafficking and enjoys volunteering at non-profits that focus on combating modern day slavery. Her work and volunteer experiences fuel her motivation to pursue a career in the legal field. Ms. Tenorio, who is originally from El Monte, California, enjoys traveling, spending time with her friends and family, and volunteering at her church.
Languages
Ms. Tenorio is fluent in Spanish.
Certifications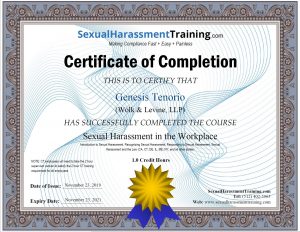 Let's discuss your case
We'd love to hear from you. Feel free to Contact Us or visit our Practice Areas page for more information about the services we offer.