Guinevere M. Malley
Senior Attorney
Guinevere M. Malley's experience includes a wide array of litigation and transactional work. She has been admitted to practice law for over 16 years and handled negotiations, contract drafting, permitting, arbitrations, trials, and appeals.
CALIFORNIA BAR LICENSE
she/her/Ms.
BIO
Senior Attorney, Guinevere M. Malley, has approximately 17 years of experience in business litigation and transactional matters. Before being admitted to the California Bar in 2004, Ms.Malley graduated from the California Polytechnic State University in Pomona, with a Bachelor of Science in Finance, Real Estate and Law. She later obtained her Juris Doctorate from California Southern Law School. Before joining Wolk & Levine, LLP, Ms. Malley specialized in the representation of corporate and individual clients in the night club and restaurant industries.
Ms. Malley diligently represents her clients in negotiations, alternative dispute resolution proceedings, dispositive pre-trial motions such as anti-SLAPP motions and motions for summary judgment, trials, and appeals. In 2018, The California Appellate Court published a case in which Ms. Malley successfully appealed a trial court decision against her client. Additionally, Ms. Malley handles a wide variety of transactional matters including real estate issues, contract law, commercial leases, insurance coverage, liquor licenses, commercial evictions, residential evictions and conditional use permits. In her free time, Ms. Malley likes to hike and explore the Southern California mountains with her dogs.
Certifications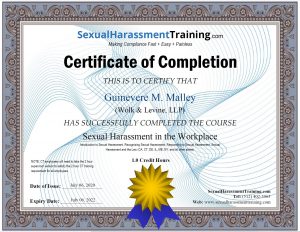 Let's discuss your case
We'd love to hear from you. Feel free to Contact Us or visit our Practice Areas page for more information about the services we offer.