Jacqueline Suh
Associate Attorney
Jacqueline Suh is an Associate Attorney at Wolk & Levine, LLP. Ms. Suh works directly with the Partners on various litigation projects including drafting court documents and discovery, conducting extensive legal research, and corresponding with clients. She also assists with corporate and trademark work. Ms. Suh earned her law degree in 2020 from Tulane University Law School. She is a member of the State Bar of California.
California Bar License
she/her/Ms.
Bio
Jacqueline Suh graduated from The University of Texas at Austin with a Bachelor's Degree in Public Relations in 2017. She attended Tulane University Law School and graduated in 2020. At Tulane, she served as an Honor Board Justice on Tulane Law School's Honor Board, an elected body of students who investigate and adjudicate alleged Honor Code violations. She served as Chief Justice during her final year. Ms. Suh was also the Senior Business Editor of Tulane's Journal of Technology and Intellectual Property.
Prior to working as an attorney for Wolk & Levine, Ms. Suh was a Summer Law Clerk in 2019 and Post-Bar Law Clerk in 2020. In her spare time, she enjoys playing tennis, hiking, and trying new restaurants around Los Angeles.
Languages
Ms. Suh is fluent in Korean.
Certifications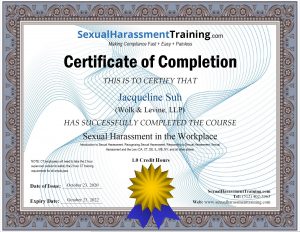 Let's discuss your case
We'd love to hear from you. Feel free to Contact Us or visit our Practice Areas page for more information about the services we offer.