Sean Shiffman
Legal Secretary
Sean Shiffman handles various legal tasks with attorney oversight or that do not require an attorney's involvement. His assistance helps ensure that legal work is performed well and timely.
Bio
Sean Shiffman is a certified paralegal with an A.A. in Paralegal studies from Platt College in Alhambra. He has an extensive background in corporate legal environments and support. Prior to working at Wolk & Levine, he spent 13 years overseeing and managing a high volume of civil litigation cases for law firms representing the nation's top credit and loan providers.
Outside of the legal world, Mr. Shiffman enjoys spending time with his family, dog included. They regularly visit the many local mountains, deserts and coastlines of California. When not outdoors, they take pleasure in watching a movie or playing a board game.
Other Certifications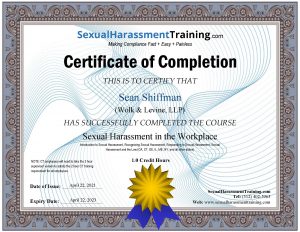 Let's discuss your case
We'd love to hear from you. Feel free to Contact Us or visit our Practice Areas page for more information about the services we offer.