Joseph P. Ancewicz
Office Manager
Joseph P. Ancewicz manages administrative, operational, and miscellaneous tasks within the office, working with all personnel and closely with the Managing Partner. He ensures Wolk & Levine functions smoothly day-to-day, and plans ahead to avoid large problems and support the firm's growth.
BIO
Joseph P. Ancewicz graduated from California State University, Northridge with a Bachelor's Degree in Business Administration with a focus in Management. While attending school, Mr. Ancewicz was the Vice President and Treasurer of the California State University, Northridge chapter of People in Human Resources Association (PIHRA) and he also interned at a financial planning company in North Hollywood, California. After graduating, he was a full-time assistant financial manager and after mastering that position, Mr. Ancewicz was promoted to the Office and Operations Manager position, which he excelled at for over 13 years.
Mr. Ancewicz is a committed family man. He is heavily involved in his two sons' activities; some of his duties include acting as the treasurer for his younger son's Cub Scout Pack and treasurer for his older son's travel youth baseball team. Mr. Ancewicz enjoys spending his time with his wife, camping, watching Los Angeles sports teams with his family, and spending time with his two cats & two dogs.
OTHER CERTIFICATIONS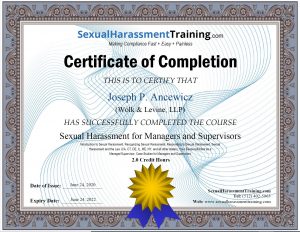 Let's discuss your case
We'd love to hear from you. Feel free to Contact Us or visit our Practice Areas page for more information about the services we offer.